Our Sheep
The Vault Flock was started in 2004 when we visited Cotswold Farm Park, the home of rare breeds. This is where we initially purchased 3 ewe lambs.
These three Hebrideans were purchased as pets and used as lawnmowers when we lived on the Malverns. 
We then decided to try and breed with them the following year. Through the Hebridean Sheep Society we found other local members. In November 2005 a proven ram Rye End Sebastian arrived on loan from local breeders Neil and Katie Anderson. This was the ram that started our "Vault" flock.
Our established "Vault" flock of Hebrideans have their own website.

(Please Click on the

for more information - opens a new tab)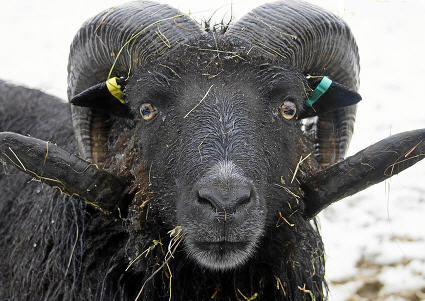 In 2021 we again used our prize winning ram Sycamore Inverlochy for tupping. We held back some of his lambs born in 2022 for breeding. Currently we have 22 ewes in lamb and they are with our new ram Cinderhill Titus.
The numbers have fluctuated over the years and this year he had 22 breeding ewes with the tup. All our sheep are born, reared and grazed on our traditional pastures.